Soul'd Out Presents
SKERIK BAND
with
Fri
August 13, 2021
( Doors:

8:00 pm

)
SHOW:
9:00 pm
PDT
Jack London Revue
529 SW 4th Ave., Portland, OR
Ages 21 and Up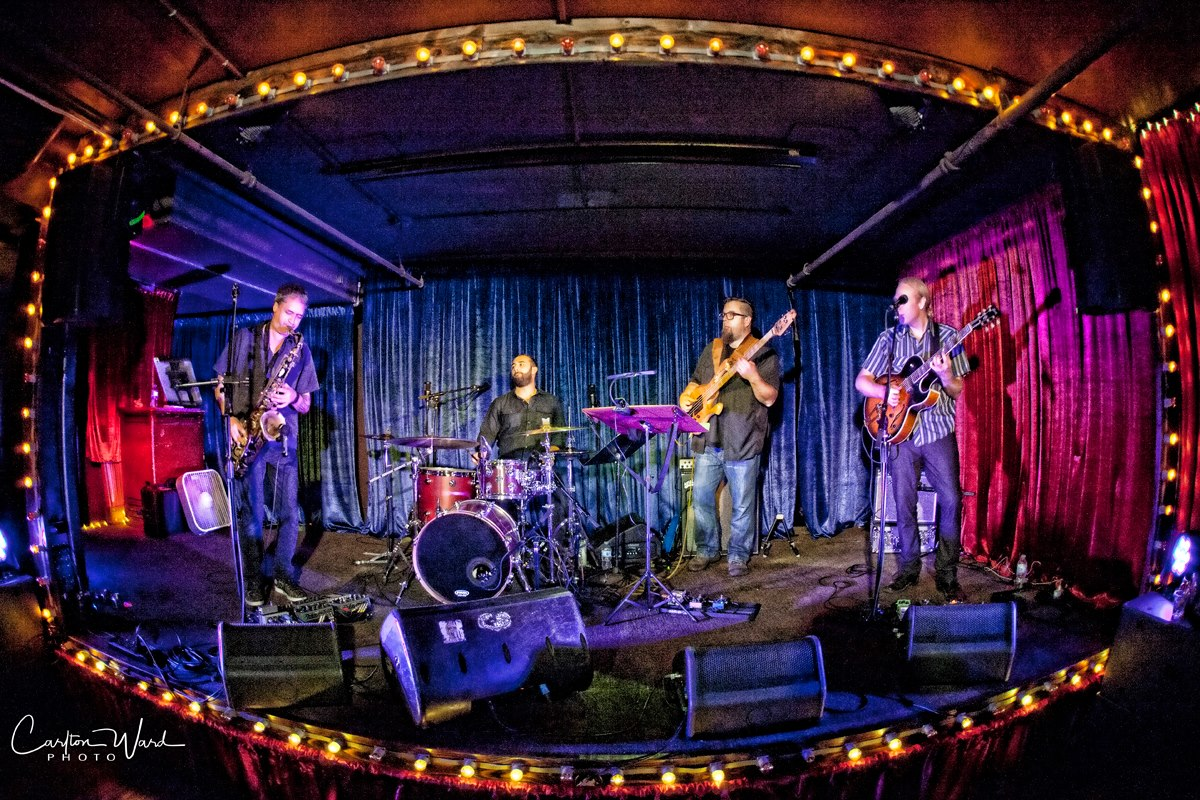 Skerik Band features the superior Saxophone stylings of Skerik (Bandalabra, Darkwave, Crack Sabbath, Dead Kenny G's, Critter's Buggin), the groovy Guitar gymnastics of Andy Coe (Bandalabra, Tuatara, McTuff, Andy Coe Band), the dynamically dexterous Drumming of Tarik Abouzied (Pocket Change, Hardcoretet, McTuff, Happy Orchestra) and the bold Bass bombardment of Damian Erskine (The Jaco Pastorius Big Band, Jeff Lorber). Their experimental mix of original and classic jazz, groovy far out funk, and the occasional cover of Frank Zappa and Pink Floyd is not for the faint of heart.


Shovelman is a junkyard beatnik, a shovel guitar wielding surrealist folk superhero. An enigmatic iconoclast, his music will lure you into another place and time. Drawing psychedelic rock melodies out of a barn shovel turned slide guitar, Shovelmanmanipulates cutting edge looping FX to craft broken orchestral experiences, retelling tall-tails and immortal hotel room hymns. The sounds of Mississippi delta blues from the electro-psychedelic future, collide with the antiquated rubble of lyrical one-man-band hoboetry. Shovelman's industrial barnyard blues has been likened to the music of Tom Waits, Morphine and The Black Keys. Shovelman has become infamous on the west coast festival circuit, sharing stages with acts such as Primus, Beats Antique, Jason Webley and Reggie Watts. He has also performed alongside the west coasts most prominent bohemian circus troupes, including Lucent Dossier, The Vau De Vire Society and The Wanderlust Circus.

Important Safety Notice: Covid-19 is a serious and highly transmissible illness, customers should use appropriate caution in any public place.The Jack London Revue strictly follows all Covid-related health guidelines as determined by the CDC, the State of Oregon and Multnomah County.
SKERIK BAND
Skerik began playing saxophone in the fifth grade in the Mercer Island public school system. His father's love of jazz was an early inspiration. He played saxophone, keyboards and drums in a rock band called Uncle Jam at Mercer Island High School. He has cited The Rolling Stones and Pink Floyd as bands from that time period who brought saxophone into rock music well. In the 1980s he travelled to London, Paris and the South Pacific working day jobs and playing in a variety of bands. His friendship with Leif Totusek introduced him to South African music and Zaire soukous bands in London where he first began playing music full time.
Skerik returned to Seattle in the late 1980s where he played with Sadhappy. In the early 1990s he joined three ex-members of New Bohemians to form Critters Buggin (who have remained active through 2008). Projects since that time have included Ponga (Wayne Horvitz and Bobby Previte), Tuatara (Peter Buck, Scott McCaughey and Craig Flory) and solo works of Stanton Moore as well as Garage A Trois (also including Charlie Hunter). Beginning 2000 Skerik was a member of every incarnation of Les Claypool's Frog Brigade and Fancy Band. In 2001 Skerik played the Pacific Northwest portion of Roger Waters' tour, reproducing the sax lead in "Money".
In 2002 Skerik formed Syncopated Taint Septet with fellow Seattle musicians. After touring nationally, their 2006 studio release Husky received very positive reviews.
Skerik won the award of "Northwest Jazz Instrumentalist of the Year" at the 2003 Earshot Jazz Golden Ear Awards.
Skerik has expressed support of music education for young people and support for activism such as the voting project HeadCount. In interviews he has discussed creative integrity and spontaneity. He has also provided music workshops.
VARIOUS PROJECTS
Skerik is a founding member of Critters Buggin, Garage a Trois (which has included Stanton Moore, Charlie Hunter, Mike Dillon and Marco Benevento), Crack Sabbath and The Dead Kenny G's. Skerik is an original member of Les Claypool's Fancy Band and Frog Brigade, Bobby Previte's Ponga and Coalition of the Willing and Joe Doria's McTuff. In the 1990s he was also a member of Tuatara (with Peter Buck) and Seattle-based Sadhappy.
Skerik has toured with Fred Wesley, Mike Clark and The Headhunters, Wayne Horvitz (Zony Mash), Mad Season and Roger Waters. He has performed with Pearl Jam, Bonnie Raitt, The Meters, Galactic, Dumpstaphunk, Johnny Vidacovich, Jacob Fred Jazz Odyssey, Ween, and many, many others.
In Seattle Skerik leads Seattle-based "punk-jazz" ensemble Skerik's Syncopated Taint Septet. He is a founding member of Seattle's Crack Sabbath. He is also a member of Seattle-based McTuff.
In New Orleans he is a member of Maelstrom Trio (including long-time duomates keyboardist Brian Coogan and drummer Simon Lott). The Maelstrom Trio combines disparate elements such as free jazz, funk, metal and textural music. Skerik and percussionist Mike Dillon have toured as a trio with New Orleans bassist James Singleton as "Illuminasti".
Skerik and Dillon also perform as a trio called "The Dead Kenny G's" with alternate third members. National tours have included keyboardist Brian Haas and bassist Brad Houser. With Houser they have also toured as "Critters Buggin Trio" and in 2009 they released a debut CD entitled Bewildered Herd. As the band's name implies there is an expressed disdain for smooth jazz and commercialism. Skerik has described The Dead Kenny G's as a "free-jazz version of The Melvins." In 2011 The Dead Kenny G's toured with frequent Skerik and Dillon collaborator Les Claypool's Primus