Soundstage Events & Elevate Unity Present
When Men Love - A Valentines Tribute f/ Ian Knighton & The Urban Soul Alliance + Members of Bridge City & Onyx Soul
Fri
February 10, 2023
( Doors:

8:00 pm

)
SHOW:
9:00 pm
PST
Jack London Revue
529 SW 4th Ave., Portland, OR
Ages 21 and Up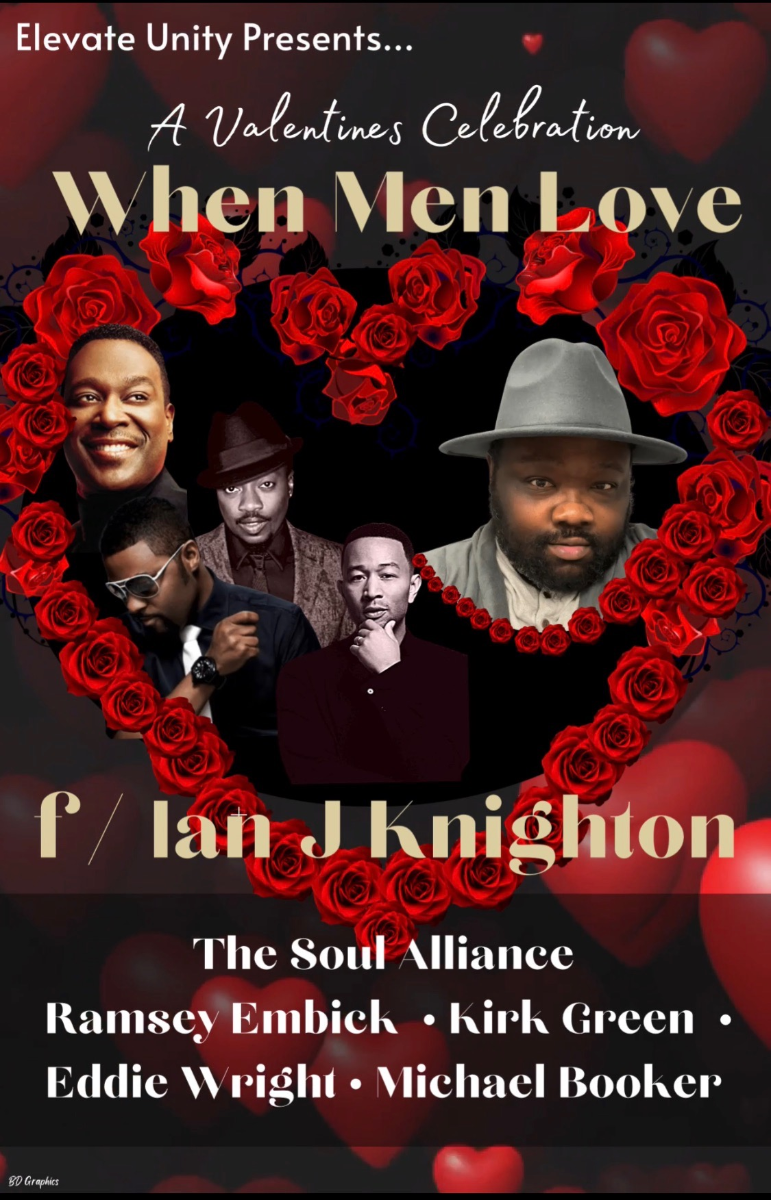 VIP Dinner Includes Bourbon St. Chicken Cajun Green Beans / 7 Cheese Mac
The Urban Soul Alliance is an eclectic music collaborative of adept select artists.
They hit the stage for a sultry tribute to legendary male vocalists like Ralphel Sidiq
Luther Vandross, Anthony Hamilton & more!
Indulge in an incredible night of "Soul" music with 5 inspiring vocalists for an exclusive show you won't forget!
Soundstage Events, Southern Grill Catering, Black United Fund, Music Portland.

The Elevate Unity Benefit Music Series is a creative effort created to reconnect our community, and promote unity through the healing message of music!
Our focus is to advocate for inclusion, equality, and support support musicians.

Ian J. Knighton: Vocalist
Lyricist, songwriter, psalmist, playwright, worship leader, recording and performing artist, vocal coach, director. These descriptive words describe Mr. Ian J. Knighton, "Smooth As Silk". He's a trained operatic tenor and nationally renowned musical trendsetter, blessed with the ability to sing in six languages.

He's received 4 National School Choral Awards and has been a featured soloist for the governor & legislative board of Georgia. In 2008, Knighton was featured on the revered gospel label, Tyscot Records as a top new artist for their online showcase.
Ian was named one of BET's Top 20 Semi-Finalists for Sundays Best Season 2.

Kirk Green: Vocalist
KG is a veteran triple threat entertainer... Know as a soulful, sensual, singer songwriter and master pianist. He's produced multiple sucessful cd's while performing on many independent artist projects with local legends, Marlon McClain guitar, Dennis Springer sax, and more. His music on Spotify, YouTube & Pandora

Eddie Wright: Vocalist
A man of pure soul who began singing in church and performed with "Men of Hope" before embarking on a more public career in the local Soul/R&B scene. He's currently embarking on his solo career performing with top local acts.

Ramsey Embick: Keys
Band leader, for Bridge City Soul, he's also been a band leader for the Pointer Sisters in the 80's, and worked on projects with Jennifer Holiday, Gladys Knight, The Whispers, Gerald Levert, Rene & Angela, Michael Jackson,The Commodores, Bobby Womack, so you get the idea! His his love of the music translates and ignites the spirit in all of us because his is the music we all love.

Brika de Tar: Vocalist
Singer/songwriter, Brika de Tar, began her singing career over 15 yrs ago. Her vocal vibe is fashioned from the world of R&B, Neo Soul, Jazz. Brikas undeniable energy, sultry and transparent vocal vision on life and love will take you on a needed journey.
She has dedicated herself to creating an atmosphere in which you can feel the vulnerability of her soul and deep love for the art of music in every note she sings.