Soul'd Out Presents
Hot Club Of Cowtown
Sat
September 24, 2022
( Doors:

8:00 pm

)
SHOW:
9:00 pm
PDT
Jack London Revue
529 SW 4th Ave., Portland, OR
Ages 21 and Up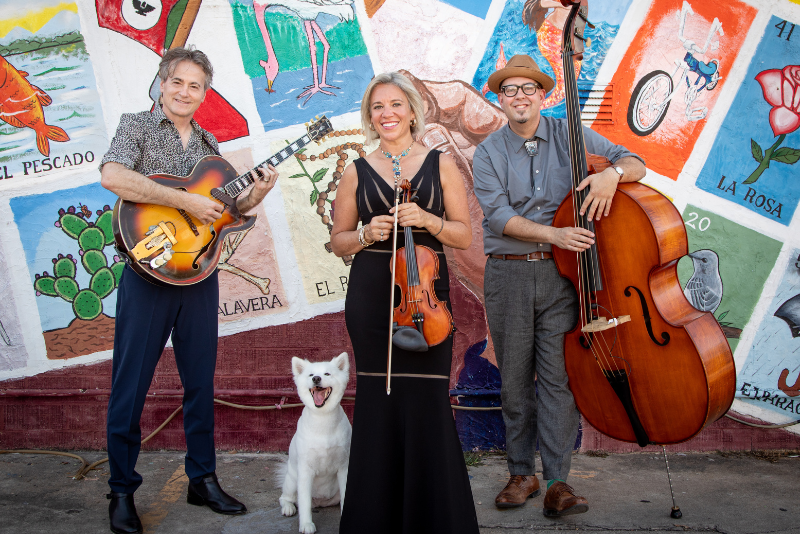 Notes on Seating: The Jack London provides two options for ticket purchasers: Reserved Seating and General Admission. Reserved Seating is purchased on a table-by-table basis in the central part of the venue and is only available for select shows. Both Tables AND General Admission seating is limited on a first come first serve basis

Since 1998, the Western swing-gypsy jazz trio Hot Club of Cowtown has traveled the world bringing their own brand of magical musical chemistry to audiences far and wide. Along with Elana James, guitarist Whit Smith and bassist Jake Erwin are equal partners in this original marriage of gypsy-jazz-inspired by the music of Django Reinhardt — which accounts for the "Hot Club" portion of their name — with the hoedowns, traditional tunes, and Western swing-inspired music of Bob Wills and the Texas Playboys, represented in the "Cowtown" of their name. They have created a legacy of the preservation of musical traditions that have often been overlooked by the mainstream and alternative music worlds. Even Americana and roots enthusiasts have only scratched surface of the multitude of musicians, past and present, who continue to inspire the Hot Club of Cowtown.
"This music may be more prevalent now than fifteen years ago," says James. "I don't think as much of this was going on when we first got together–the seamless blending of Western swing tunes and hot jazz standards a la Django Reinhardt and Stephane Grapelli." While the merging of gypsy jazz with Western swing sounds natural when listening to Hot Club of Cowtown, in the beginning the fusion of the two styles seemed more unorthodox than it does now. "We just have always listened to old recordings and get inspired by that endless trove of astonishing performances. Mixing these genres together has always just been such a natural fit. Over the years other 'hot club' bands come and go but I guess generally we may be the most visible touring Western swing power trio out there."
The band has a long list of accomplishments since their first album, Swingin' Stampede, first appeared in 1998 on HighTone records. Most notably, they are marking their 20th anniversary during the 2017-2018 touring season. They have released nine studio albums and they are among the youngest members ever to have been inducted inot the Texas Western Swing Hall of Fame. A considerable accomplishment for a band that have migrated their way from New England and the Midwest by way of New York City. They have most recently been named Western Swing Group of the year in 2015 at the Ameripolitan Music Awards (a new genre created by Dale Watson to recognize roots-influenced bands).